Radiance Eye Serum
$57.16
Elegance in serum infused with Hyaluronic Acid for superior benefits to delicate skin around the eyes and eyelids. Radiance Eye Serum is fortified with liposome encapsulated antioxidants to smooth and plump the skin. This product is gluten, paraben, oil, non-comedogenic, and fragrance free.
12 in stock (can be backordered)
Description
Radiance Eye Serum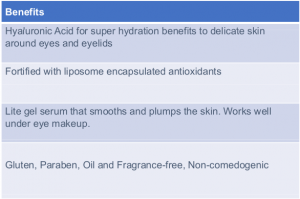 Only logged in customers who have purchased this product may leave a review.