Blanca: 20% Active Vitamin C Complex
$140.40
Comprehensive Brightening System designed with 20% Vitamin C Active Complexes in a time-released delivery system. This elegant formula combines arbutin, emblica, bearberry, citric terpenes, CoQ10, Vitamin E, superoxide dismutase, and a blend of ascorbic acid polypeptides to support healthy collagen production, guard against free-radicals, and moisturize. This bio-compatible antioxidant system maintains potency and stability allowing maximum penetration and absorption over time without oxidizing. Blanca is compatible with all skin types from acne-prone to dry.
Gluten, fragrance, hypoallergenic, non-comedogenic, paraben and free of artificial dyes.
Blanca Serum 1 drop to each hemi-face twice a day.
72 in stock (can be backordered)
Description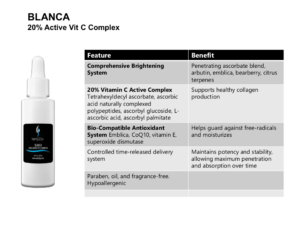 Only logged in customers who have purchased this product may leave a review.