Radiance Soothing Lotion
$38.48
This gluten, oil and frangrance free enriched soothing lotion is packed with Vitamin A, C, E, Co-Q10, and Green Tea to help soothe and calm the skin plus a splash of squalane and glycerin to lock-in moisture. Best of all this product is non-comedogenic and is perfect for those with acne-proned skin using medications that tend to dry out the skin.
10 in stock (can be backordered)
Description
Radiance Soothing Lotion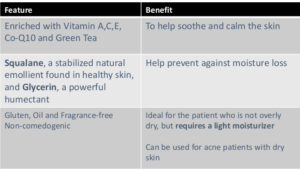 Only logged in customers who have purchased this product may leave a review.