Radiance 360 Green Tea Mineral Powder SPF 50
$50.92
FOR ALL SKIN TYPES – IDEAL FOR SENSITIVE/POST-PROCEDURE SKIN.
Active Ingredients: Zinc Oxide 24%, Titanium Dioxide 22.5%, and Iron Oxides >2%.
Broad spectrum mineral protection against UVA/UVB rays that cause skin photodamage. Protection against harmful blue light spectrum. Green Tea, Resveratrol, Caffeine, Safflower Seed Oil, Chamomile Extract and Vitamin E. Ultra calming antioxidant blend to nourish, soothe and protect skin from damaging free-radicals. Non-comedogenic. Oil, Fragrance, Paraben-Free. 0.14 oz brush applicator. Easy to use brush application makes it convenient to reapply throughout the day for maximum sun protection, oil control and a fresh complexion. Recommended for all skin types.
Out of stock
Description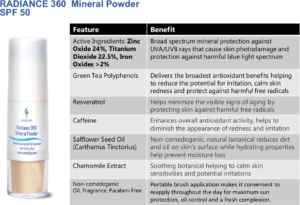 Only logged in customers who have purchased this product may leave a review.