Radiance Tinted Oil-Free SPF
$40.48
Octinoxate plus Zinc & Iron Oxide evenly distributed broad-spectrum UVA/UVB/High Intensity Energy Blue Light provide protection from UV light. This oil, fragrance, paraben, and gluten free formula is infused with tinted niacinamide to brighten blemishes; lactic acid to gently exfoliate throughout the day; hyaluronic acid to create a humectant barrier; and caffeine to fight oxidative stress. Iron Oxide concentrations greater than 2% are effective in preventing OPN3 pigmentation.
23 in stock (can be backordered)
Description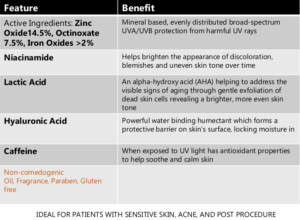 Only logged in customers who have purchased this product may leave a review.