Radiance Pads
$40.36
Formulated with the purest pharmaceutical grade Glycolic Acid available. Ensures minimal irritation and accelerates the removal of dead skin cells that can interfere with the proper oil drainage of the skin. Combined with acne fighting ingredient Salicylic Acid USP 2%. Pharmaceutical active acne medication ingredient removes surface oils, unplugs and refines pores. Witch Hazel – a proven astringent helps reduce surface oil and refine pore size. Excellent and affordable solution for pediatric and adolescent patients. Easy-to-use cleansing/toning pads. Paraben, Oil, Sulfate, Gluten, Colorant and Fragrance-free. Non-comedogenic.  Recommended for oily, combination, and acne-prone skin types.
97 in stock (can be backordered)
Description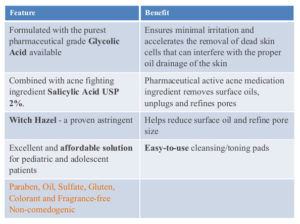 Only logged in customers who have purchased this product may leave a review.