Azul: Hyaluronic Acid + Peptide Serum
$104.00
Fractionated nano, mid, and large particle Hyaluronic Acid serum designed to penetrate and remain within the superficial, medial and deep layers of the skin. Hyaluronic Acid is one of nature's most powerful hydrators naturally binding up to 1000x its weight in water. Azul's capacity to remain within each layer of the skin prevents trans-epidermal water loss thereby maintaining a healthy skin barrier function. Azul supports TGF-beta 1 improving elasticity, firmness, and Neocollagenesis which reduces the appearance of aging skin. Azul also reduces excess oil production which makes it compatible with all skin types from acne-prone to dry skin.
Gluten, fragrance, hypoallergenic, non-comedogenic, paraben and free of artificial dyes.
Azul Serum 1 drop to each hemi-face twice a day.
72 in stock (can be backordered)
Description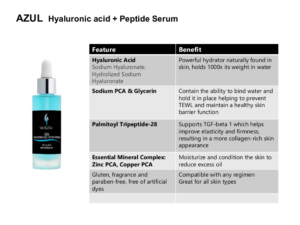 Only logged in customers who have purchased this product may leave a review.