Radiance Gel 5%
$27.04
Formulated with highest medical grade Benzoyl Peroxide. No solvents used due to sophisticated manufacturing process. Made from finely milled micronized benzoyl peroxide. Does not leave a white chalky residue. Fortified with Benzoyl Peroxide For anti-bacterial protection against Propionibactrium acne (P. acnes.). Adjunct therapy to topical and oral antibiotics. Helps to reduce the risk of bacterial resistance. Oil ,Fragrance, and Gluten-free. Hypo-allergenic. Non-comedogenic. Recommended for oily, combination, and acne-prone skin types.
10 in stock (can be backordered)
Description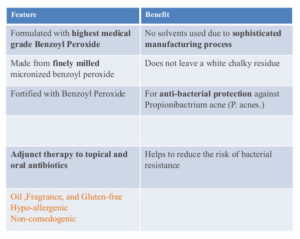 Only logged in customers who have purchased this product may leave a review.