Radiance Ojeras Eye Bright
$77.60
Peptide Blend-Supports healthy collagen production improving the look of lines and wrinkles around the eye. Edelweiss Flower Extract-Powerful antioxidant that neutralizes free radicals to help address sagging, loose skin around the eye. Kelp Extract-Derived from sea algae offering antioxidant effects to help reduce oxidative stress found in the skin and moisture loss. Hydrolyzed Vegetable Protein-Critical to moisture retention for skin under the eye with natural water-binding properties to keep delicate skin soft and supple. Hyaluronic acid Humectant that locks in moisture on skin's surface. Titanium Dioxide (Universal Pigment) Gentle, natural minerals help to conceal visible imperfections and blemishes. Oil, Fragrance, Paraben Free, Hypoallergenic, & Ophthalmologist Tested.  Recommended for all skin types.
11 in stock (can be backordered)
Description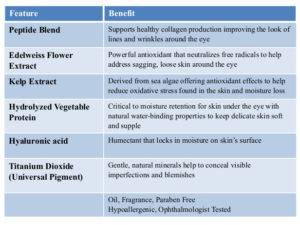 Only logged in customers who have purchased this product may leave a review.